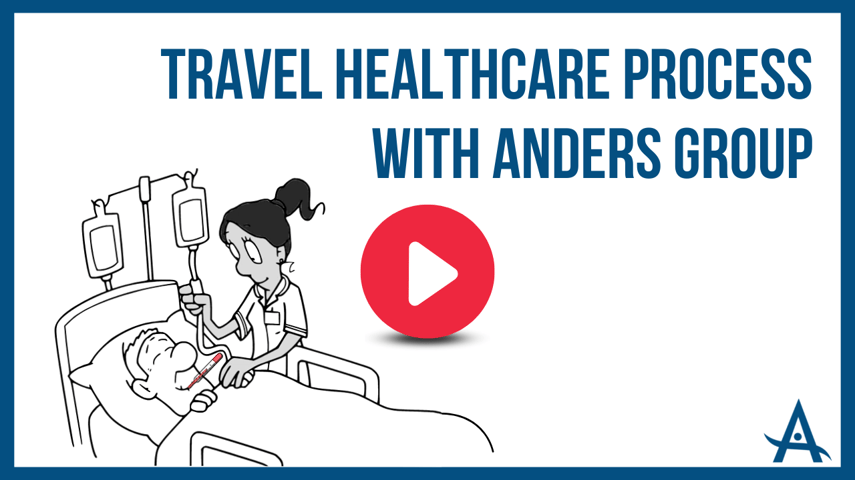 Healthcare traveling is a great way to progress your professional career while exploring the country. If you are interested in starting your travel career, you might be wondering how traveling works or what steps you might need to take to start a travel assignment. Traveling opportunities are abundant and there are many agencies to work with, but with Anders Group, we are there to guide you from the start. We want to help you understand our traveling process whether you are starting your travel career or exploring your options.
With Anders Group, you will encounter 7 major steps towards starting an Anders Adventure.
Meeting Your Recruiter
Submitting to Jobs
Building Your Profile
Interviews
Offer Negotiations
Compliance
Beginning Your Travel Assignment
Meeting Your Recruiter
Once you have expressed interest in working with Anders Group, we connect you to a recruiter as soon as possible. Our recruiters are dedicated to guiding you throughout your entire journey. They are here to answer any questions you may have about the healthcare traveling process, and will help you feel confident that traveling is the right career opportunity for you. From the initial contact, your designated recruiter will discuss with you which locations you prefer, your ideal start date, shift preferences, desired pay range, and much more. Based on the information you provide, they will begin sending you jobs, setting you up with job alerts, and preparing to submit.
Submitting to Jobs
As your recruiter begins sending you potential assignments, they will suggest for you to submit your profile to the facility. Many healthcare travel jobs start ASAP, and the process can move rather quickly. The optimal time to start submitting for jobs is around 4-6 weeks before your desired start date. When your recruiter sends you jobs that could be a fit, they will want to submit you right away. Submitting your profile is not committing, and much is negotiable once you receive an offer. We do not want you to miss out on any opportunity that comes along.
Building Your Profile
In order to submit you to healthcare travel jobs, your recruiter will need to gather some necessary documents to build your profile. An Anders Group profile consists of an updated resume, skills checklist, and 2 professional references. Your recruiter will ask for these items at the start. The facility that you submit to may request some additional documentation. Once the facility has everything required, your recruiter will connect you with the department manager for a phone interview.
Interviews
The interview process is extremely important. This is your chance to get a feel for the position and the department you will be working with. You'll want to ask questions about the position, the department, and the workload. Since most travelers are coming from out of state, most interviews occur over the phone. If you would like more information and tips to ace your phone interview with a facility, read more here.
Offer Negotiations
If the interview goes well, let your recruiter know, and they will contact the facility to push for an offer. Ideally, the facility will extend an offer and negotiations will begin. You will be able to dig deeper into the assignment regarding the pay package, benefits, time off, and more to see if it is a good fit for you. In hopes the offer and negotiations fit, we will immediately write up and contract to lock in the offer.
Compliance
Once you accept the contract, our team begins the compliance process and sets up any other details that are necessary for your assignment. This includes both Anders Group compliance, as well as matching facility compliance standards. Some items such as drug screenings and background checks may be required within X number of days before starting your assignment, so we will hold off on scheduling those until an offer is locked in.
Beginning Your Travel Assignment!
Once compliance is cleared, we get the official green light for you to start your new assignment. Your recruiter will make sure to send you the facility's first day information along with the timecard process. As you start, our team will check-in with you accordingly during your first week. We want to ensure you are settling in well and set up for success for your 13 week assignment. Additionally, we want to reach out and experience your assignment with you! We love keeping in touch with our travelers and enjoy seeing pictures of your time.
As your assignment nears its last few weeks, you have a couple of paths to take. If you loved your assignment and the facility has a continued need, you could opt to extend the contract. That is the beauty of traveling; you can take weeks off at a time and it's really up to you when you would like to start working again. And if you would like a new opportunity, we can start the process over with you again. Remember, the sweet spot to planning your next Anders Adventure is 4-6 weeks before your next desired start date!
Hopefully you have a better understanding of what the healthcare travel process is like with Anders Group. Make sure to check in with your designated recruiter, or apply to a job on our Job Board so we can reach out and get you started!